News
NABET-CWA, Guild: Don't Let the FCC Crush Local News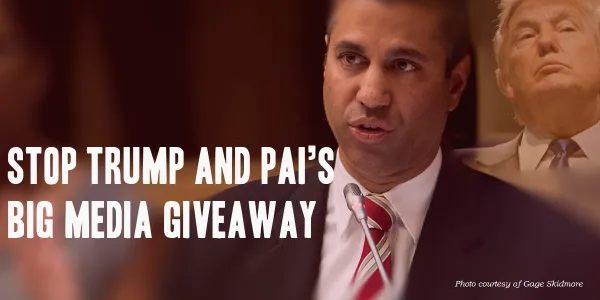 NABET-CWA and the NewsGuild-CWA are urging members and supporters to sign apetition opposing plans by the Federal Communications Commission to eliminate longstanding rules governing media ownership – rules that are intended to protect local news coverage and guarantee a diversity of voices.
"If the rules are abolished, residents would face a drastic loss of local news coverage – and jobs – as media companies consolidate," said NewsGuild President Bernie Lunzer.
The FCC seems to be in a hurry.
Chairman Ajit Pai told a congressional panel on Oct. 25 that the FCC plans to vote at its Nov.16 meeting to eliminate rules that prevent companies from owning a newspaper and broadcast station in the same market. He plans to hold the vote without allowing any public comment.
"Apparently, Pai isn't concerned about what ordinary citizens think about the plan," said Charlie Braico, president of NABET (National Association of Broadcast Employees and Technicians). "The proposals seem to be tailor-made for the Sinclair Broadcast Group."
Sinclair announced plans to buy Tribune Media in the spring, soon after the FCC lifted a cap on the number of stations a company can own. If the purchase is approved, it would give Sinclair access to more than 70 percent of television viewers in the United States.
Sinclair is notorious for insisting stations air segments produced at its corporate headquarters. The "must-run" segments replace local programming and frequently feature commentary by former Trump White House official Boris Epshteyn.
"The merger of these media giants would lead to the overwhelming dominance of the nation's local broadcast stations by a single company," Lunzer said. "It also would expand Sinclair's insidious 'must-run' segments to additional outlets around the country. You have to wonder which represents the greater danger."
But Sinclair can't complete its takeover of Tribune Media unless the FCC guts current rules.  
"If Pai and the FCC push through the proposed changes, there will be fewer independent and local voices than before, fewer journalists on the beat, and less locally produced content," Braico said.
"Don't let Pai ram through this sketchy deal. The FCC may not be asking for public input, but let's give it to them anyway."
NABET-CWA Local 11/NBC Bulletin
NABET-CWA Local 11 Bulletin
NABET-CWA Local 11/NBC Bulletin